Posted by Donna Bilozir on 2023 Mar 10th
Who would have thought that approaching age 68 I would be asked to speak about my foray into hunting.
Born in the 50's in London, ON to an army band sergeant and a bookkeeper mom, you might never expect that one day I would become a hunter with a firearms / reloading business.
As the youngest and only girl of four children in a frugal household, the highlight each year was a trip to
beach on Lake Huron for a week of camping. My other activities in summer were hanging out with friends, doing cartwheels, and looking for four leaf clovers in the grass. Lawns in the day were cut, not pampered to perfection as they are today.
Another summertime highlight was when the tar truck came every summer to put tar on the gravel road and sitting in a deep puddle at the corner of the crescent during a thunderstorm. It was warm and the closest thing to water we had, and no one mentioned the danger! In winter I enjoyed skating on the ice rink in year wearing boy's skates and tobogganing down a local hill by the school.
I was not an outdoorsy person. Even in high school in Calgary when all others were heading west to the ski hills, it was not something my family pursued. However, a strong work ethic was instilled in us through watching our parents provide for us.
As a young adult I began my working career at age 15 working as an IGA cashier. Graduating high school at age 16 and moving out of the family home, I worked as a bank teller for some time. Many jobs ensued such as telephone operator, legal secretary, receptionist, loans and mortgage officer, non-profit fundraiser, executive assistant, contracts administrator, Canadian travel manager and founder/director of a charity for seniors to name a few roles. Obviously, I don't know what I want to be when I grow up.
I met my current husband in April 2007 and my life and perspective changed from a city girl to a farm girl in short order. Moving to the country, tending cows, growing, and harvesting hay, raising donkeys and horses, shooting predators and hunting became the norm.
On the farm, we would use a clay launcher to practice our shotgun skills, of which I have none. There is a story on our website of the time a friend and his wife came to out to shoot clays and the wife was to watch how I did. Will provided his 12 ga shotgun for me to try. It was my first time……………..the story tells the rest.
https://bilozir.net/information/crash-test-dummy/
My first duck hunt in September 2007 (age 52) near Michichi, AB was an experience. Will and his friend Colin took me out after the Stettler gun show. Dressed in men's hunting clothes and waders, I thought the addition of ammo belts, camouflage, folding chair and other accoutrements would never stop. Feeling cumbersome and unprepared I clumsily followed them into a body of water waist deep. No ducks were harmed during my experience, but I did write another story about that adventure.
https://bilozir.net/information/have-you-met-the-m...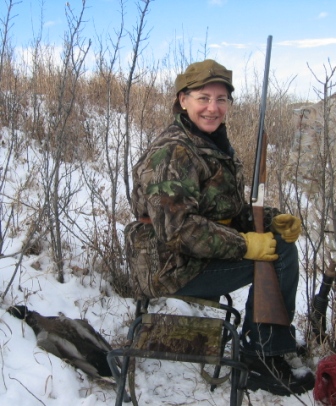 My next hunting experience was close to home on the Bow River that same year in December. It was a cold, beautifully sunny day as we sat by the river and waited for the ducks to head towards our decoys. I had no idea what I was doing. There were ducks teasing me endlessly but sadly escaped my attempts. Even with the supportive encouragement from Will, I was frustrated as my competitive nature was revealed.
During 2007, my husband Will and I began expanding his existing business of supplying shotgun reloading equipment. We decided to branch out and began importation of Italian guns. Exploring potential exclusive importing opportunities led us to F.A.I.R. (Fabbrica Arrmi Isidoro Rizzini) and thus began a long-term relationship. Adding several other exclusive brands to our offerings and increasing our available reloading products was the first step. Now we continue to exclusively represent F.A.I.R. in Canada. We are dealers for Pedersoli, Ballistic Products and MEC Outdoors, offering one of the largest selections of shotgun reloading supplies in Canada.
Over the years I personally introduced Prois ladies hunting gear to Canada, America West leather products and currently sell Adrian Klis buffalo hide products made in Alberta.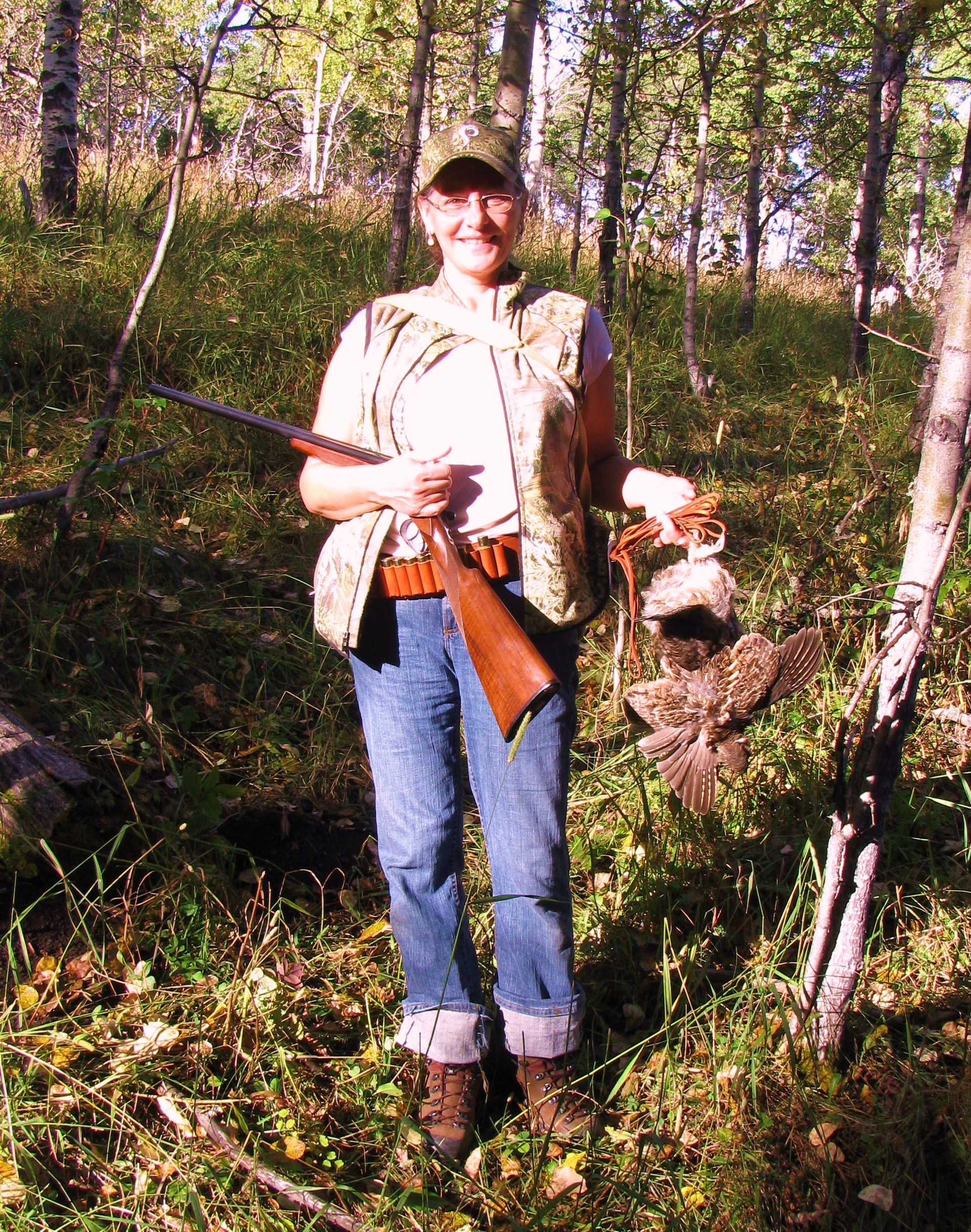 Once fall day in 2009, wearing my Prois vest, I accompanied Will and his friend Neil into the mountains for a grouse hunt. It was a beautiful day and I enjoyed the hike. The guys found some birds and my acquisition was a Spruce Grouse. Cooking it later turned out to a huge disappointment to the palate!
Shooting a shotgun is an art form to me. I watch some approach it with vigor and stance, while others seem to naturally become one with the shotgun and birds. My experience encompasses neither of these scenarios. Left eye dominant, shooting right handed turned out to be my challenge. I have both a 20 ga Merkel and a 28 ga Ugartechea fitted to my dimensions which helps, but I need much more practice. Working full-time and attending upwards of 30 gun shows annually on weekends does not leave much time for that.
I was given my husband's Ruger #1 .30-06 to try in preparation for my first big game hunt. The length of pull was much too long, but after a few decent test fires I felt somewhat prepared, but still nervous. I figured a deer is a larger target and felt encouraged.
Travelling west into the Porcupine Hills of Alberta in the dark of that November 2009 morning, we arrived at our destination at sunrise. Just as we were parking, there was a herd of mule deer in the coulee. I was ordered to jump out of a moving truck, grab my rifle and ammo and race up the hill to a suitable position. Not in superior shape, I sprinted up the hill and at the top bent over with exhaustion.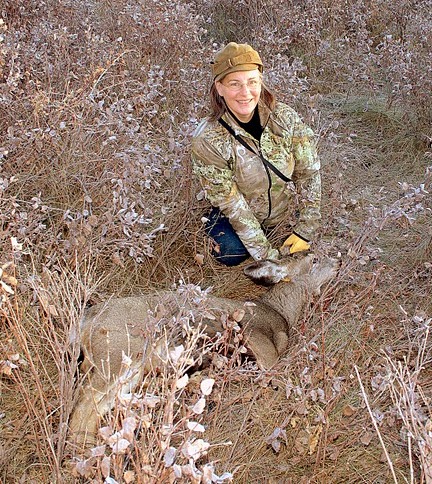 The hunting spirits were with me that day. Our friend had raced up before me and shot his buck while I was gasping for air. I felt deflated and assumed my window of opportunity had passed. As I caught my breath, standing on that hill I noticed a young mulie doe standing perfectly broadside in the coulee below. I knelt into position, took a deep breath, and shot. Being inexperienced I did not look through the scope to see where she was. When I looked up, she was gone, surely, I missed! However, our friend told me I was successful, and she had dropped in place. What a relief as I stood there shaking. My one concern was, and still is that I make a good, clean shot while hunting.
Little did I know that all hunts are not so expedient.
Shooting the Ruger #1 30'06 was a positive experience even with the size and weight. After my success, we began searching for an appropriate hunting rifle for me. It came in the guise of a 1976 Ruger #1 Sporter 30'06, which is a shorter version of the Ruger #1. With a shorter barrel length and stock, it fit me perfectly. With the addition of a Leupold scope, and several adjustments to correct the eye relief, I was ready. It was amazing that I no longer had to torque my neck and head to see through the scope! I'm surprised with all the adjusting I had to do to make a shot that I could hit anything.
I never realized that having a gun with right length of pull, good balance and the correct eye relief for the scope could make such a difference. Not only was the gun lighter to carry while tracking, but I was able to spot my target and shoot with ease.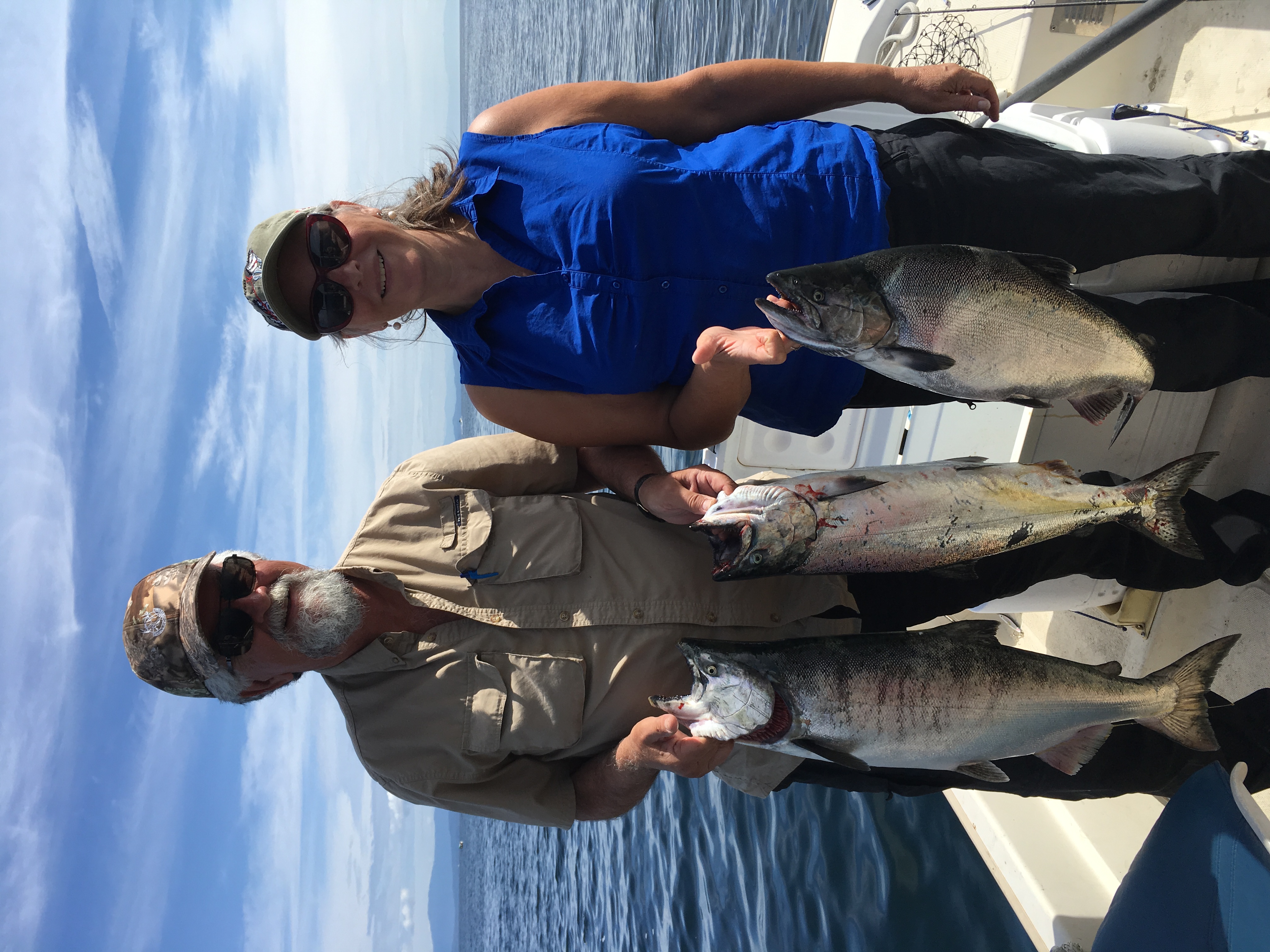 I'm not an avid hunter or shooter for that matter and consider myself a subsistence hunter. It is a valuable skill to be able to provide for ourselves whether through hunting or growing our own food. The autumn season finds our kitchen overflowing with canners, jars and produce as we work to complete our canning. Mostly corn, beans, peas are canned but we also make pickled beets, mixed pickles and squash pickles. Every August we travel to Pt Alberni to partake in coastal salmon fishing. Great fishing and visiting with friends culminates in canning some our salmon in September for a wonderful winter treat.
A few miles east of our farm are some sloughs that are overflowing with ducks and some geese. The surrounding pea fields in particular attract the geese, and the ducks abound in this rural area. An early September 2012 morning shoot with my Merkel presented lovely views and sunrise to enjoy.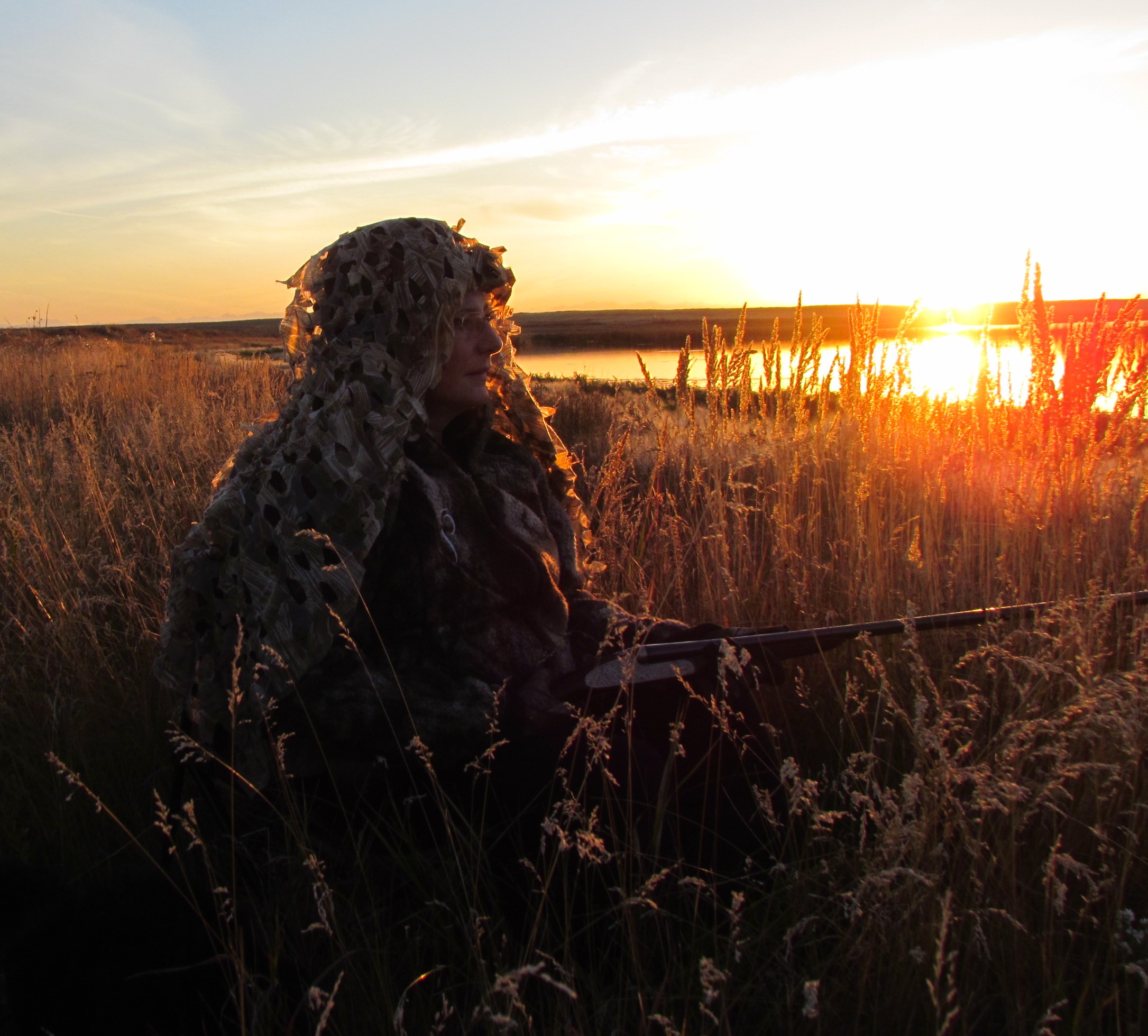 My life is not all about hunting or our business of shotgun reloading supplies and Italian gun sales. My free time includes Daoist Tai Chi, teaching Qigong and providing other healing modalities to clients. Some folks think there it is quite a dichotomy in being an international arms dealer and selling reloading supplies, while practicing and studying healing arts.
Hunting requires skill and patience while honoring mother nature providing food and beauty for us to enjoy. Being in tune with the land and your surroundings is meditative and allows us to touch a part of ourselves often overlooked in our day to day lives.
Ducks, deer, goose, and grouse have now been shot, harassed or seen by me at this point. But I'm not a hunter. So when does this happen?
It is like me saying I'm not a cowgirl because I don't ride my horse well. But I've branded cattle, ear tagged, fed, loaded and hauled cattle. I'm told I suffer from the imposter syndrome.
When my husband Will asked this non-hunter if I would consider going on a moose hunt, I was skeptical. Although I had been to the area where we would hunt, I was unsure of both my stamina and skills. However, I agreed, so on November 1, 2014, I began a new adventure.
At least now I felt comfortable with my '30.06 and had women's hunting gear for comfort and flexibility. Warm boots were another matter and a story for another day.
We arrived at the location, parked, and began a 5 km hike back into the foothills in Southern Alberta just north of Chain Lakes. Although the terrain was not too rugged, I was tired already as we reached our first lookout. To the west, we had heard many rifle shots and saw bull moose charging out of the bush and through a meadow in the distance below us. As we sat with a willow bush behind us, I caught peripheral movement and suddenly a beautiful bull moose was on my right about 20 ft away checking me out. I froze and thankfully he decided to move on, whew.
Not the most patient person, boredom quickly set in as we scanned the terrain from our lookout. In an effort to calm my anxiety, sitting cross-legged with my rifle across my lap, I meditated for about 10 minutes and asking the universe to offer me a moose. When I was finished, we decided to move a bit farther east and farther up the ridge. About 30 ft along I spotted an animal bed down against some willow. Binoculars up, confirmation that it was a cow, and I suddenly became very animated and alert.
My comfort position for shooting is kneeling on my right while using my left knee as a rest, with my sling around my arm. One shot at 360 yards and she stood. I thought I had missed but learned later that if I missed, she would have run away. Instead, she remained still, then thankfully began walking towards us! A second shot finished the job and she conveniently dropped by a tree making it easy to tie up her legs to dress out. I was overwhelmed with emotion as I left an offering and thanked mother earth for this gift.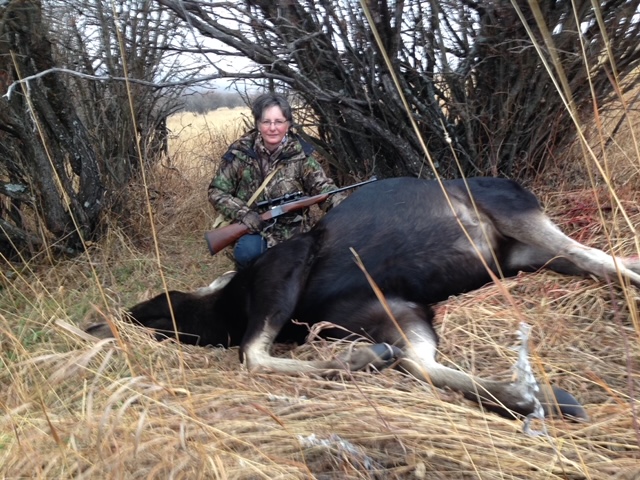 In October 2015 I'm invited to a field goose hunt from a coffin blind! Getting up at 4:30 am, driving in the dark, setting up 100's of decoys and layout blinds……….so much fun. Where's the coffee, I need coffee…….and don't tell anyone I napped in the layout blind! At least this is better than sitting a slough, standing in water or hiding in reeds which I determined is not my favorite thing to do.
https://bilozir.net/information/you-want-me-in-a-c...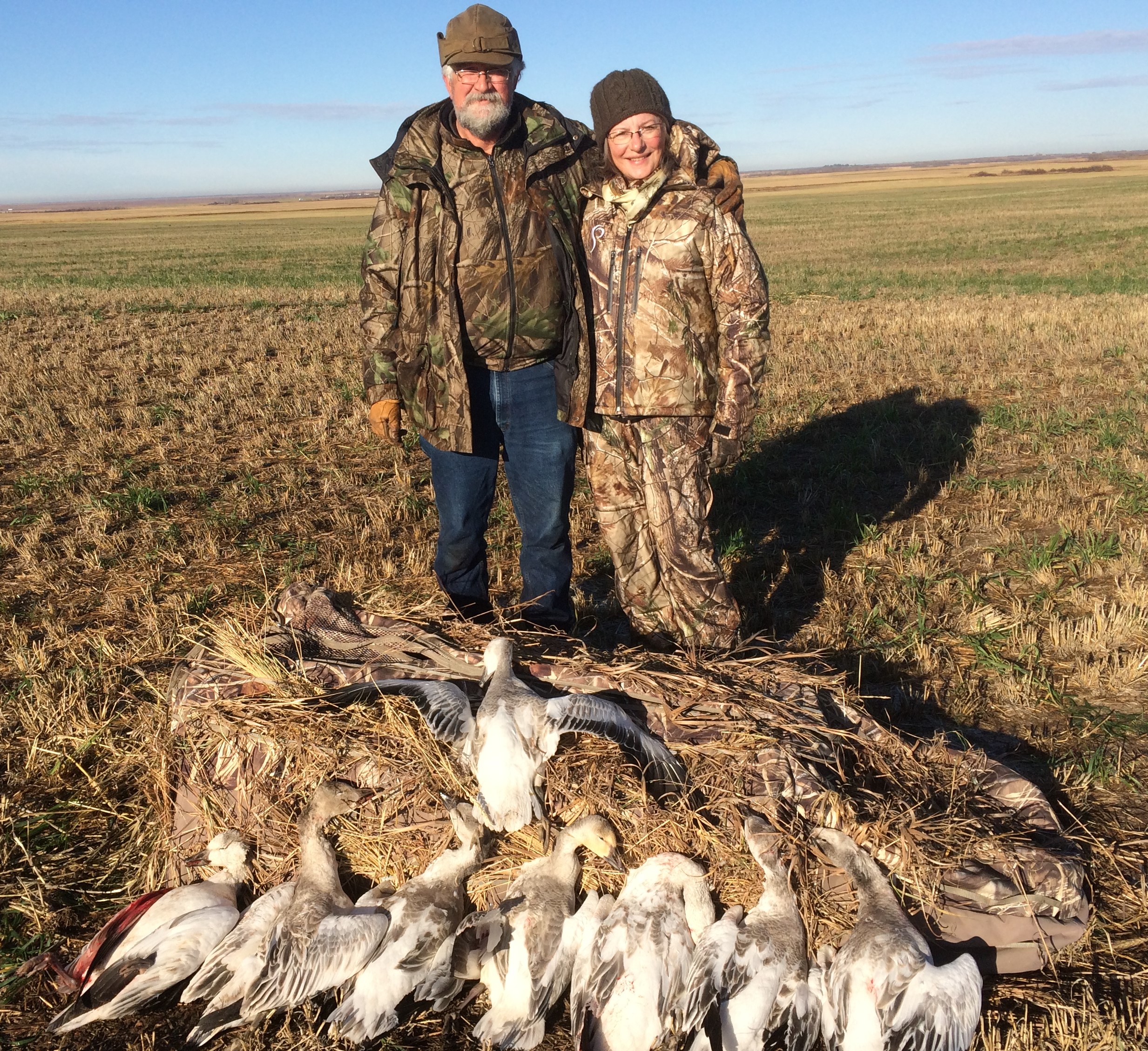 During that same trip, I was introduced to pheasant hunting. With my new pup by my side, I gracefully wandered through a scenic pheasant release area in central Alberta.
Both of us were totally untrained for this adventure, but I had a gun and ammo so off I went in search of pheasants. Suprisingly, Zach pointed and flushed a pheasant from the edge of a pond which woke me out of my peaceful ruminations.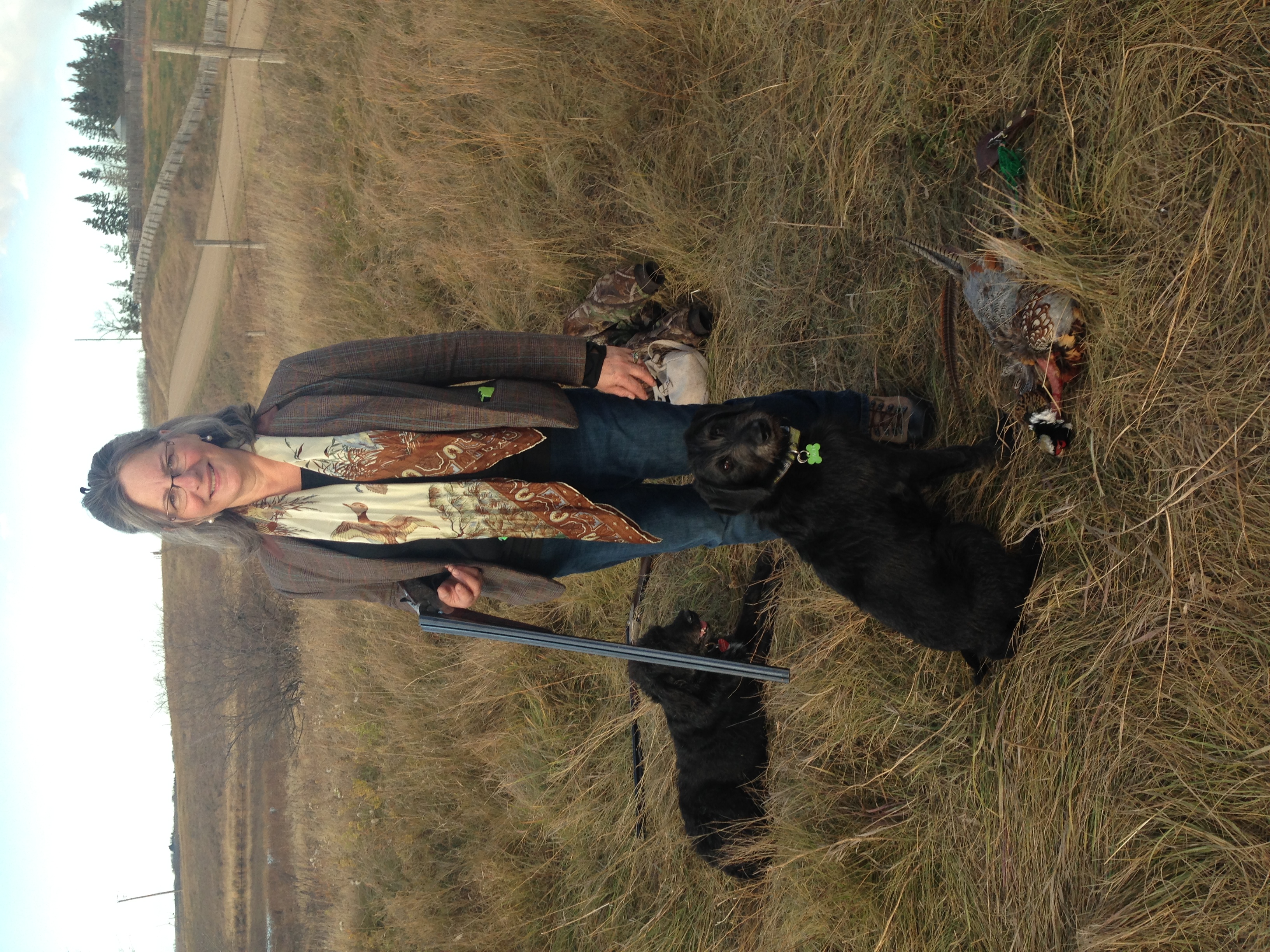 I was so proud of him, but not so proud of my poor shooting. The day ended with a success however.
Will and I rotate our hunting draws so that we each get a moose license every two years. So let's fast forward to November 1, 2018.
First day of hunting season at our favorite spot in Southern Alberta where the moose abound. The day started out bright and clear with a moderate snow cover. It was difficult trudging through the snow and grass up a ridge to a vantage point. About half way there, my back was tired and I was cranky! So I sat down in the snow to rest much to the chagrin of my husband who was determined to get to the top. Withing a few moments I spotted movement and a moose came into a small clearing quite a ways out. A quick look confirmed it was a cow, but I was uncertain of the distance. As this was my only opportunity that day I took the shot. It was a hit and she did not travel far making it easy to track. Turns out this was my first 500 year shot using my '30.06 and a 165 grain Speer bullet.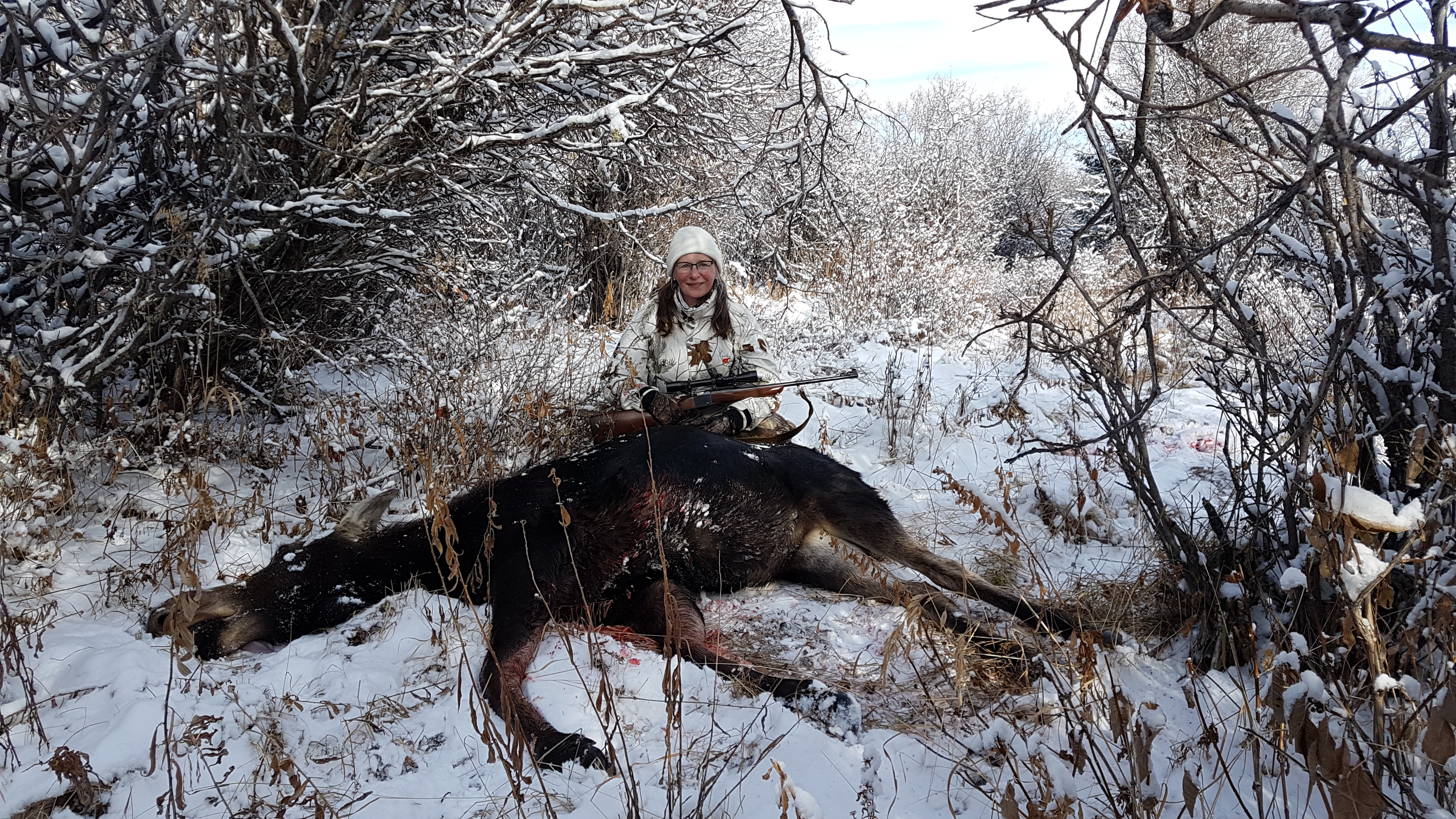 In 2019 I began a several year project to make Medieval inspired dresses to sell at Renaissance events. Using a combination of vintage and new materials, beautiful dresses and tunics were created. A totally different endeavor and far from the world of hunting, but creating is a satisfying endeavor. I have too many interests to narrow into only one activity.
Will and I frequented the S.H.O.T. show in the US to meet with our contacts from the various gun and reloading suppliers. It provided an opportunity to see new products but most importantly, to maintain our long-term relationships with manufacturers such as F.A.I.R. and Davide Pedersoli. Every few years we travelled to Italy / Spain to visit the gun factories we well. Unfortunately due to covid and our move, we have not visited in some time.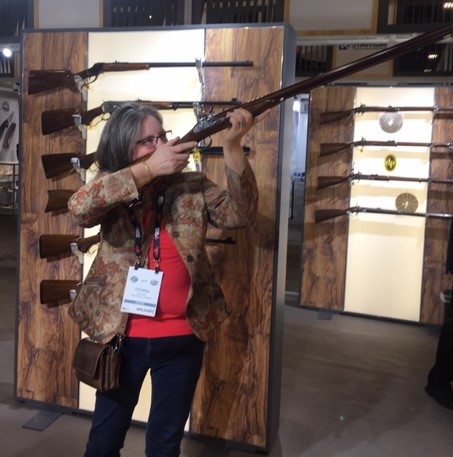 Recently, we have renewed a relationship with an incredible Spanish gun maker called Ugartechea. They had stopped production for several years but are re-opened. They offer top quality hand-made guns including true sidelocks and hand-engraving….quality that rivals many other bespoke gunmakers.
Antelope are fast and small, and not a super experience shooter, why would I want to shoot one? I was told in no uncertain terms that although you may only see 30-50 lbs of meat, it is delicate and delicious.
So guess what I did in 2020? Yep, a trophy antelope hunt. Will had been submitting draws on my behalf for 11 years and I finally was drawn. The day before we spent an afternoon scouting, making note of where we saw trophy antelope.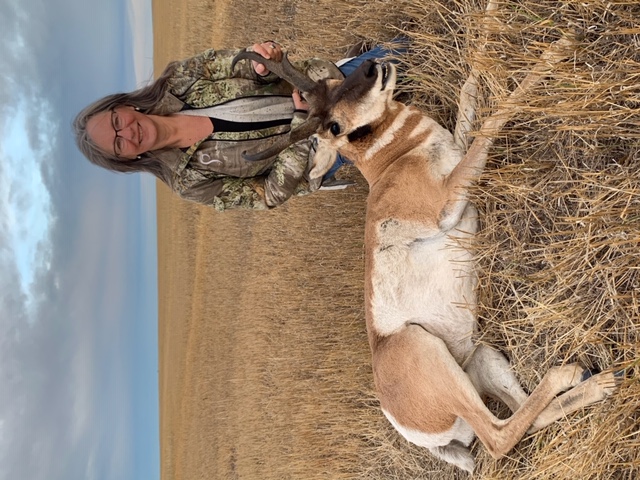 An early morning with a beautiful sunrise found us travelling to all the spots until we found one ………..out of the truck, set up to shoot and one 222 yard shot later we were done. That was the second shortest hunting trip so far. He was quite large and we did get almost 50 lbs of meat to enjoy.
His name is 'Kris' and you can read all about it here. ttps://bilozir.net/information/meet-kris/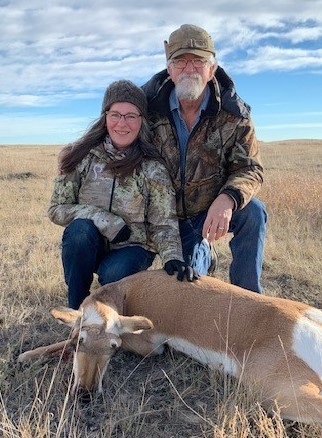 Another antelope in 2021, 100 yard shot………….always with my trusty .30.06 and my trusty buddy by my side
By now you may have noticed that there is no mention of bird hunting. Some years back I decided that I just don't enjoy shooting or eating birds. And we can only eat so many so I leave the joy of duck/goose hunting to Will.
My most recent hunt was November 1, 2022 for another cow moose. Hunting the same area, using the same technique of getting tired, sitting down to rest and then spotting moose. This time the day had been quiet as there were no other hunters in the area. We did not see anything and I was becoming disheartened. Up the ridge again, I was tired and sat for a rest.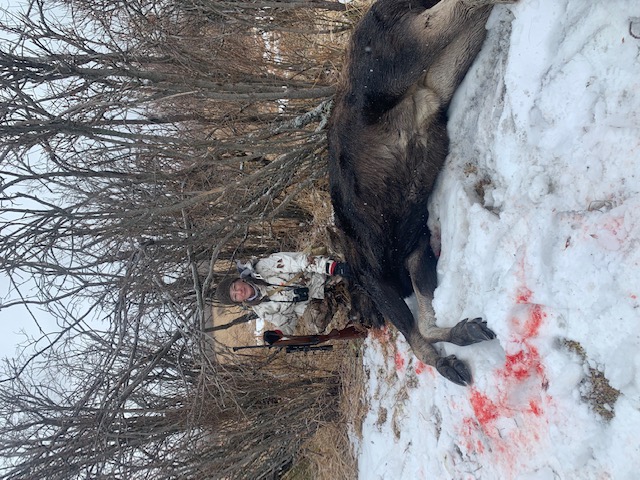 As history repeated itself, I spotted two moose exiting the willows to the east at a trot. Confirming a cow, I quickly positioned myself for a shot with some concern that they were on the move. Targeting the larger cow in front, she slowed for a moment and I took the 375 yard shot. A clean shot thankfully and she wandered only a ways into the willow. Another successful day and wonderful meat for the next year.
I was proud of myself as I dragged out a front quarter 5 km with a rope in order to reach cell service and invite a friend to help. Will was gutting the moose and waiting for me to come back to haul out the rest.
So that's my hunting journey to date . Wil there be more? I guess as we now live in an area full of elk, I'm told it is on my list for next year. So what do you call someone who hunts only once every year or two………………casual imposter? Those folks who diligently travel long distance, track many miles over many days even without success are the real hunters in my opinion.
Happy Hunting,
Donna