Posted by Donna Bilozir on 2020 Oct 2nd
Eleven years….that's all it took. And in ten minutes it was over. So let me introduce you to Kris.
One Sunday afternoon my husband Will, myself and a friend embarked on a pre-hunt scouting trip in Central Alberta to locate an animal for me to hunt the following day. Off we went armed with binoculars, maps, snacks and drinks prepared for a long afternoon of scouting and a plan to put my chosen target to bed that evening. That way we could head out early and know exactly where to find him.
We reached the area that we thought would produce some results and within the hour began seeing small groups of does and bucks. In order to keep track of what we were potential animals for me to fulfill my trophy tag, each prospect was given a name in alphabetical order.
The first buck had actually been spotted on Saturday by Will while out duck hunting and assigned 'Albert' as his name. Although I never saw 'Albert', he was described as a phenomenal choice as long as he stayed where he was spotted. On Sunday morning the first we spied was 'Barry'. He was decent enough and within good range, but we continued our search.
Next came 'Charles' who was obviously a seasoned buck with long horns but located in a difficult position some distance away. 'Prince Charles' was an attractive choice but with his location and wily nature, we guessed he was safe from my hunt. 'Doug' was not noteworthy and 'Edward' (also of the royal family) was barely legal.
Finally we came across the 'Fab Four', a bachelor herd about a mile up the road nestled in a coulee with a lonely doe. The 'Fab Four' had great potential with one fellow looking ever so regal. So we certainly made note of these fine fellows.
'George' and his girlfriend were all alone in the next area, but 'George' was young and we thought to leave him alone unless nothing else presented itself. 'Harry' (you guessed it, royal family lineage) was acceptable however aloof. What can I say?
And then came 'Isidoro'. 'Izzy' was happily surrounded by his harem and an outlying buck named 'Jerry', all quite content to watch us as we eyed-up 'Izzy'. A sizable set of horns made him a viable choice so his location was duly noted and it seemed he may be in the best accessible location.
So far so good………..actually a great success in spotting game over this 3.5 hour period. Really quite amazing and exciting for me as I was psyching myself up for the hunt. I'm a good rifle shot, but had not shot my .30-06 for an entire year prior to sighting it in a few days earlier. So I was feeling pressure and nervous to make the ideal killing shot. I suppose every hunter has this in the back of their mind.
At this point we knew that the vast area chosen would be ideal for my Monday morning hunt and headed home. The guys took off for a quick duck/goose shoot and checked on 'Albert' on the way home but unfortunately he was nowhere to be seen. As 'Albert' was also in the opposite direction from where our pre-scout afternoon ensued, he was removed the list. Good-bye mysterious 'Albert.' Barry and the gang better be on their toes now.
Evening arrives and we realize that with the plethora of bucks we had seen it was unnecessary to 'put to bed' a buck. Such a terrible dilemma to have……such a variety to choose from! I now felt confident there would be no trouble fulfilling my tag.
By now you have probably guessed that I had a tag for a trophy antelope, the ubiquitous goat of the prairies. A beautiful animal, fastest in North America, yielding delicate tasting, tender meat that you must ration because there is so little!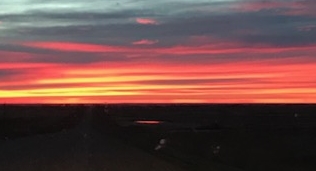 Five am arrives too soon when you are accustomed to sleeping in until 7:30, yawn. At any rate adrenalin was in good supply and I was up and ready quickly. We headed out in the darkness, again all prepared with water and snacks in case the hunt took longer than expected.
A gorgeous red sunrise welcomed us as we drove east to look for 'Barry'. No sign of 'Barry, Charles, Doug or Edward' as we re-traced our previous days' scout. Hmm, I know it's not a shopping trip but I thought sure they would stick around for me. Guess not. I was becoming a tiny bit discouraged, but at least 'George' and the 'Fab Four' were about to come onto the horizon I anticipated quietly. 'George', the least coveted specimen was dutifully in attendance with his girlfriend, seemingly taunting me that he was my only choice. But as I had decided, he was to be left alone for the time being.
And then I spotted the tell-tale white in the field. Yes, there was two does and a nice looking buck about 350-400 years away. I was a bit tentative but then we spotted a farm track that would take us up a fence line and somewhat closer. We made our way up the track and stopped. Now meet 'Kris', a beautiful specimen with symmetrical horns standing elegantly and conveniently broadside. Kris and his girls were unconcerned as I exited the truck, loaded my gun and got into position. I instantly sighted in and made my shot. It was probably no more than ten minutes from initially sighting Kris and the girls to the 222 yard lung shot that dropped him on the spot. Whew. I was exhilarated and relieved. We were able to get close to Kris to gut and put in the truck, but not before leaving an offering to Kris and the earth for offering such a gift to me on this calm, sunny Monday morning in September.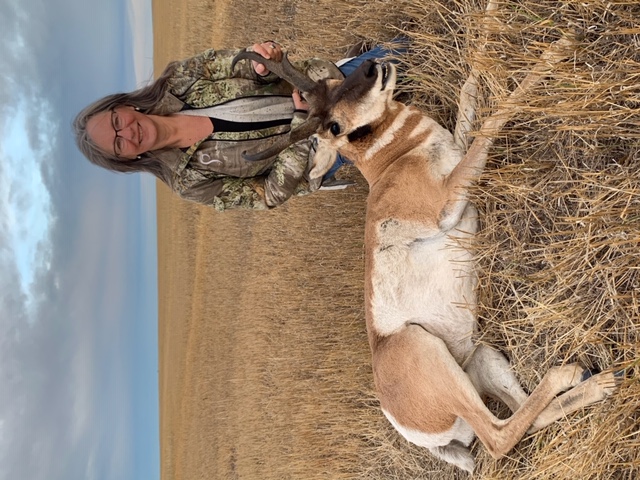 Is there something to be learned from the experience? I believe that the excited lengthy lead-up to the hunt is starkly contrasted by the quick and easy success of obtaining meat for the freezer. I was prepared for a long day and it was complete in such a short timeframe. It reminded me that it is not just the hunting but everything leading up to it, during and after that completes the experience. This is so true for our lives in general, we have all heard the adage 'enjoy the journey, it is not just the destination that is important'. Certainly every time we enjoy an antelope dinner the images of red sunrises, calm and sunny blue skies, temperate weather and good friends will always come to mind.
Happy Hunting
Donna